Sisters of Our Lady of Charity of the Good Shepherd are united in one mission while committing to serve either through active engagement in ministry (apostolic sisters) or prayerful support and contemplation (contemplative sisters).
A community of contemplative sisters was formed in Tours by St. Mary Euphrasia when she was a young leader there. Some young women had expressed a desire for this way of life and St. Mary Euphrasia realised that, through lives of prayer and silence, contemplative sisters would bring spiritual fruitfulness to the work of the apostolic sisters. 
The province of Ireland has one community of contemplative sisters living in Belfast alongside a community of apostolic sisters. Prior to the current pandemic the contemplative sisters welcomed local individuals and groups for prayer, particularly for Adoration of the Blessed Sacrament, and share Lectio Divina in the local parish which continues throughout the pandemic via zoom. When available they participate as lector in the parish.
They also connect with our contemplative sisters throughout the world and with contemplative sisters of other congregations in Ireland.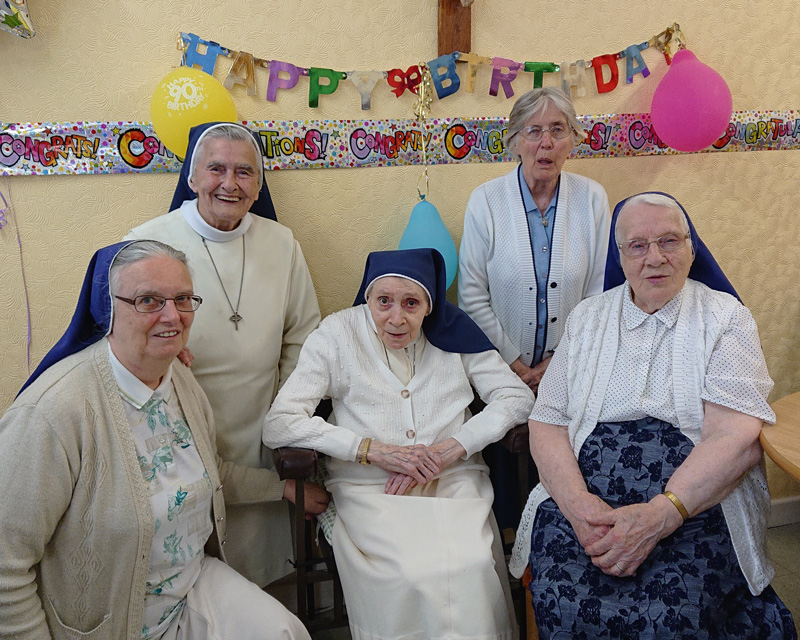 While Covid restrictions are still in place, the contemplative sisters remain connected to others through social media.
The sisters in Belfast receive many prayer requests and above all they pray for: 
the intentions/needs of the congregation and of people served by the apostolic sisters
the Church: the local diocese, Europe, worldwide
families and benefactors.
The sisters have always worked to generate income for their keep. While elderly, they continue to make Altar Linens for use in parishes. We stay connected to our common home through continued interest in gardening, recycling, bird watching and feeding, growing wildflowers to encourage the bees. We also receive missionaries within our community and welcome them also to learn and improve their English. We continue to pray for vocations to religious life, married life, single life and priesthood.